Traditional Kaula Tantra Yoga in Copenhagen & Frederiksberg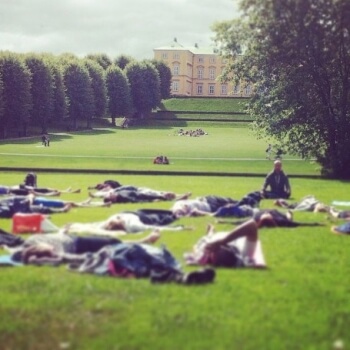 At Kaula Yoga DK we offer Traditional Kaula Tantra Yoga classes in Copenhagen and the surrounding areas (both private classes, for groups, and for companies), as well as workshops, lectures and retreats all over Denmark.
Our classes and events can focus on the practical aspects of Kaula Tantra Yoga and meditation (see below for more info), it can be lectures about the philosophy behind Traditional Tantra Yoga and meditation or be a mix of these. We can also include ayurvedic walking massage  or basic Sanskrit.
We teach in English, Danish or Russian.
Shortcuts for more info about our offers in Kaula Tantra Yoga:
Weekly Traditional Kaula Tantra Yoga classes
At the moment, we do not have weekly classes in Traditional Tantra Yoga.
You can sign up for our newsletter if you want to be notified when we start classes again.
Private Kaula Tantra Yoga classes
We offer private Kaula Tantra Yoga classes for individuals, small groups or couples. Private classes can be adapted to your individual needs and time availability. The classes can include any of the practices described below.
Contact us for an offer or further information about private Kaula Tantra Yoga classes.
Corporate Yoga / Yoga at the workplace
We offer weekly yoga classes at your workplace or office. More info about this option will come soon.
Until then you can contact us to talk more about a cooperation or get an offer if you are interested in a yoga event or regular classes at your workplace.
Events, workshops & retreats
At the moment we have not planned any workshops or retreats. But in general, we regularly have events different places in Denmark. We will update this page as soon as we have new events planned.
You are also welcome to contact us if you are interested in planning an event with Traditional Tantra Yoga in Denmark.
Get updates about future Kaula Yoga events and classes
If you want updates about classes, workshops, retreats, and offers, you can sign up for our newsletter or follow us on Kaula Yoga DK's Facebook page.
Types of Kaula Tantra Yoga classes
Traditional Kaula Tantra Yoga classes can include one or several of the options described below. Our weekly classes in Frederiksberg will as a minimum always include the unique Tri-dosha series as a part of the practice.
 
Unique Tri-dosha balancing series: meditative and balancing series that is the core of the Kaula Tantra Yoga practice.
Vyayama: standing series that works with skeletal alignment and bone density.
Advanced forward bending: effectively works with the diaphragms as well as the flexibility of your lower limbs which improves your overall health and takes your yoga practice to a new level.
Pranayama: cultures efficient breathing patterns and balances your whole system through breathing.
Bandhas: "locks" that balances your system and improves your overall health.
Upasanas: series of effective exercises that will help to prepare you and your body to get the most out of the traditional tantra yoga practice.
Ayurvedic walking massage: read more about ayurvedic walking massage.