What does Kaula Yoga DK offer?
We at Kaula Yoga DK are teaching the unique Traditional Kaula Tantra Yoga system. Our weekly classes and activities are in the Copenhagen area (more precisely Frederiksberg), but we also sometimes have workshops and events other places in Denmark.
The traditional Kaula Tantra Yoga system has a wholesome approach that goes far beyond physical performance. It is a system that gives you the tools to balance and optimize all aspects of your life (read more about what Traditional Kaula Tantra Yoga is).
Our background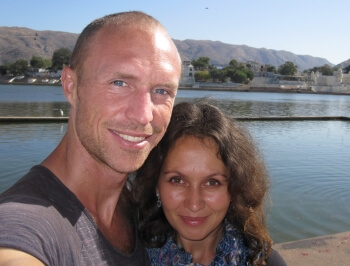 Kaula Yoga DK is owned and run by Mikael og Diana Møller.
Mikael has a master degree in communication and 15 years of experience as martial arts instructor and fighter on the Danish national team in kickboxing. For more than 10 years, he practiced and studied many different kinds of yoga, meditation and tantra in USA, Denmark and India, before he discovered the Kaula Tantra Yoga system.
Diana has a master degree in psychology and additional education in management, and has undergone several personal development trainings and courses. She came to the Kaula Tantra Yoga system after more than 10 years of managing experience in the Corporate business world in Moscow, and 15 years of personal yoga practice.
We met in Shri Kali Ashram in India, where we have studied the traditional Kaula Tantra Yoga system for several years under the guidance of the Kaula Tantra yoga master Bhagavan Shri Shanmukha Anantha Natha.
We are certified in both Traditional Kaula Tantra Yoga and Ayurveda (the traditional Indian medicine system) and have undergone thousands of hours of yoga and tantra training and studies.
We have also lived and taught in south Spain but after we moved to Denmark in 2017 we started sharing this traditional system here. At the same time, we also prioritize to continuously continue our own studies and practice of traditional tantra and yoga.
We are looking forward to seeing you at one of our classes or events.
Mikael Kjærsgaard Møller & Diana Møller